About Bliss
Hi Everyone,
My name is Judy and I am the founder of Bliss. Bliss is therapy that is uniquely customized for the individual. We believe in Milton Bennett's Platinum Rule, "Do unto others as they would have you do unto them." We strive to be attentive and flexible, listening carefully to your concerns and needs in each session. The time in each individual session is customized to your personal goal. It is up to you to decide whether you want a general relaxing treatment or the entire time spent on a specific area.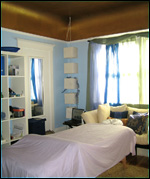 There are various treatment options using solely or a combination of Deep Tissue and Swedish fused with Thai Medical/ Yoga Massage with Ashiastu Oriental Bar Therapy ( using both feet and hands with bars in the ceiling for balance). Organic Oils and Creams are used along with Aromatherapy. We can also incorporate Teishin Needles, Ultrasound and Radiofrequency, Prenatal, Crystalline Sound Healing, Breathwork, Lympathic, Tui Nai, Reflexology, Reiki, and Vortex Healing into your massage session for a holistic healing experience. The goal of Bliss is to have bodywork and healing that endures notably beyond the time of session, "bringing lasting bliss into your everyday life."
Bliss Therapy can improve scar tissue , increase range of motion, and improve specific sports/etc injuries. We work with lower back pain, Frozen Shoulders, Rotator Cuff, Shoulder Impingement, pinched nerve, Fibromalygia, Herniated Disc, Carpal Tunnel, Tendonitis Tennis Elbow, Hand and Feet Injuries, Plantar Fasciitis, and etc as well as Prenatal. Bliss Therapy is also for relaxation, reducing emotional and mental stress , and clearing negative surrounding energies to allow you to experience greater Freedom and Joy. The goal of Bliss is to make a dramatic difference, in healing and revitalizing the body, mind, and spirit.
Sessions start at 90 minutes to 6.5 hours per person ( private and corporate events are exceptions). 90 minutes to 2 hours are recommend for an adequate treatment. Sessions can be a general full body relaxing treatment to specific pain areas like the shoulder or lower back. When there are specific issues, the entire session may be required to focus on those problem areas.
Three to four hours are recommended for a full body session. The longest massage done by Judy on a single person is 6.5 hours. Time flies during a session. Most people can't believe that 3 hours have gone by.
About Judy
Judy was born in Guang Zhou, China.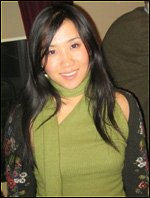 She immigrated to the US at six and from a young age, she had a strong desire to help others. She went to UC Davis as a pre-med Biology major for over 2 years. During that time she started working for Vector Marketing distributing the sales of CUTCO and managing over a hundred college students. It was also then that her interest in bodywork began.
In an Italian Opera class, a friend worked hard long hours then went to class. Her friend was exhausted after the end of her day. In an attempt to make her friend feel better, Judy discovered a new way to instantly change a person's energy and feel better. From then on, she was hooked; for three and half years Judy would offer everybody and anybody free massages just for fun. She loved bodywork and how it made people happier. Judy discovered that she could massage for ten hours straight without getting tired and that she was quite strong.
Her success in sales and management steered her away from medicine to graduate at UCD with a Communications BA and minor in Art Studio.
After graduation and dabbling in Real Estate, Judy feels extremely fortunate to have found her calling in the healing arts. She has completed her 200 hours of Camp Yoga Training with Laura Camp of Flying Yoga. She is a CMT with the California Massage Therapy Counsel, Prenatal Certified and at the master Level in Ashiatsu Oriental Bar Therapy. Judy is a Reiki Master and is currently studying Vortex Divine Healing and Crystalline Consciousness as well developing her own unique techniques. She is passionate about doing what works and finding the most efficient and effective holistic approach to heal what is needed. In other words, Judy is highly committed to making you better.